e-Quality in multicultural youth projects
Seminar entitled "e-Quality in multicultural youth projects" took place on 1-6 august 2014 and has gathered 26 participants from 12 organisations in 8 countries of the EU. They were youth workers, legal representatives, members, trainers, facilitators, project co-ordinators, representing organisations working with youth, with multicultural experiences, who wanted to increase the quality of their projects and activities.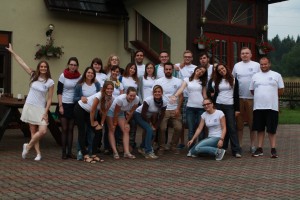 An important element of this project was discussing and utilising ICT elements. The spectrum of the project and its main aims have been reflected in its title. First letter "e" represented both new technologies, european dimension and some main values of the EU like equal rights, tolerance, justice, etc. Next parts of the title explained the educational content and the beneficiaries of our project. And so the main topic throughout the seminar was various approaches to quality in projects, daily activities, promotion, dissemination of results and various initiatives undertaken by multicultural youth organisation or organisations working in such environments, which is obvously crucial in the process of strengthening european integration. The activities of the semianr have been set and carried out in a logical, topical order: from integration, through theoretical knowledge on quality management, analysis of european and multicultural dimensions, new ICT skills, to planning future actions, promoting project results and evaluation. The seminar sessions included meeting experts, knowledge exchange, discussion panels, practical workshops, working in groups and daily evaluations. As a result of this project its participants have exchanged their experiences, gained new knowledge, had the possibility of practical use of new competences, ICT skills. They also had the opportunity to consult and get feedback from experts and all that supervised and assited by a profesional trainer, in a friendly, fully engaged manner. We are convinced that both organisations and participants have received long term profits, which they will be able to observe in better management of their NGOs, more effective promotion and communication, better contact with youth, time savings, new contacts and numerous new individual and organisational inspirations.
Here you can watch our official promotional video:
and here you can download an interesting booklet prepared by participants: Booklet_en
Thanks to engagement of our partners and participants interesting articles about our project have also been published abroad, for example in Croatia: http://usred.hr/moc-kvalitete-u-multikulturalnim-projektima-mladih
Go to our Gallery section to see selected pictures from our activities. You can also find information on this project on our facebook fanpage. Should you have any questions regarding this seminar feel free to contact us at: biuro-sir(at)go2.pl
Project supported by Erasmus+ Programme http://erasmusplus.org.pl